Top-Rated
Dental Implants
Dental Implants in Portage, MI
For years, dental implants have been a trusted, go-to solution for patients suffering from tooth loss. Tooth loss can occur for many reasons, whether it be long-term neglect of oral health, untreated prolonged gum disease, trauma to the face, or simply aging. When we lose teeth, the jawbone structure under the teeth ceases to receive stimulation, which in turn results in this bone tissue beginning to decay. Our team at the office of Dr. Jason Dopp has years of experience helping patients replace missing teeth, prevent bone loss, and achieve their healthiest and strongest smiles yet through dental implants.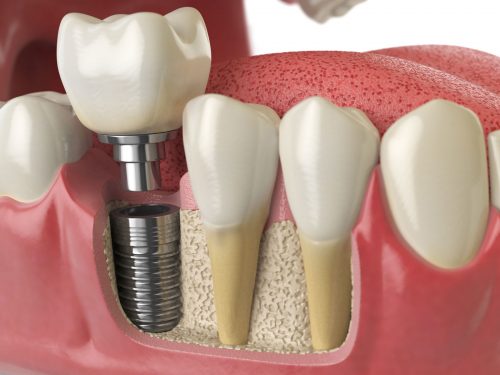 What Are Dental Implants?
A dental implant is very simply a metal post made of titanium that is placed in the jawbone of the tooth – titanium is chosen as this metal has the unique ability to fuse to the jawbone, creating an incredibly strong hold that protects the jawbone and makes for a stronger and healthier smile. A crown is then placed on top of this post which completes the implant, making for a reliable and permanent tooth-replacement method. Implants also help protect the jawbone from deterioration that occurs naturally with age. 
Benefits of Implant Dentistry
Compared to other methods of tooth replacement, implant dentistry offers a variety of benefits including strength, longevity, and convenience. A few of the advantages offered by implant dentistry include:
Freedom of food and beverages choices as there are no dietary restrictions with dental implants. You'll still be able to eat all of your favorite foods!
Long-term strength and reliability thanks to the implant fusing to the jawbone.
Correction of tooth misalignment.
Natural-looking results that fully resemble natural teeth. 
Ease of maintenance in that dental implants simply require regular brushing and flossing to remain healthy.
Dental implants are a long-term treatment solution that can last the rest of your life when properly maintained! Some implant patients may require occasional corrections due to aging or other factors – our office is capable of providing these corrections in-office to best serve our implant dentistry patients. 
Replacing Teeth With Dental Implants
There are two steps to placing dental implants – the first phase of treatment is the implant procedure itself, and the second phase is adding the crowns to the top of the implant to complete the implant process. Initially, we see dental implant patients for an initial consultation where we assess the patient's jaw strength, existing oral health, as well as their overall candidacy for implant dentistry. We'll discuss these findings with patients and then form an implant dentistry treatment plan and timeline based on their tooth replacement needs. We'll use x-rays to look at your teeth and jawbone density and health, which gives our team a good idea of where the optimal areas of the mouth are for implant placement. Once it's determined that a patient is a good candidate for implant dentistry, a procedure is given that places the implants themselves. Then, a healing process takes place where the implants themselves fuse to the jawbone, creating an incredibly strong and secure hold. Then, there is a second appointment where the top of the implants themself are accessed after the gum tissue has healed over the implant abutment, and then your final crowns are placed to complete the implant process. 
It should be noted that we assist in the diagnoses of tooth and bone volume loss as well as crown manufacturing, and we then refer implant patients to our trusted team of expert oral surgeons for the actual placement of dental implants themselves. 
A Versatile Tooth Replacement Solution
Dental implants are a highly versatile treatment solution that can be leveraged in a variety of treatment cases for different patients. Whether you're missing a single tooth or an entire row of teeth, dental implants can be used in many different tooth replacement cases including:
Single tooth replacements, 
Fixed or removable dentures,
A full row of teeth being replaced by a bridge,
Or entire tooth arches replaced with individual implants.
Different patients may require different types of implant dentistry – if you're experiencing missing teeth, speak with our team at the office of Dr. Jason Dopp today to learn which tooth replacement methods using dental implants may be best for you!
Meet Your Local Portage/Kalamazoo Dentist
The Proof is in Our Patients

I agree with previous reviews. This dentist is THE BEST. I've never seen a professional so concerned about patient comfort and so good at everything he does. We haven't had a single bad experience in all the years he's treated us. We also appreciate his knowledge about every aspect of health and the way he's always learning the very latest dental practices. He's the city's foremost expert on TMJ while being great at everything.
The best dentist I have ever been to. He's such a nice guy and explains everything he has to do. His team is great too. They all make you feel comfortable and he's perfect for anyone that gets anxiety about going to the dentist. My kids even look forward to going to see him!
Can not say enough great things about Dr. Dopp and the staff. They made me feel very comfortable and did the work super fast.
MOST INSURANCES WELCOME AND MAXIMIZED!
Contact us and schedule your visit today. 
Most Insurances Welcomed and Maximized
We'll make the process of paying for your dental care as simple as possible! Our office accepts a wide variety of insurance plans, and we're always happy to file your claim for you so that you can be sure to receive the maximum benefits available to you. Jason C. Dopp D.D.S is in network with Aetna, Assurant, Blue Cross Blue Shield, Cigna, Dental Benefit Providers, Dental Network of America, DenteMax, GEHA Connection Dental, Guardian, Humana, MetLife, Principal, United Concordia, United Healthcare and more! Call us today to find out how we can maximize your insurance plan!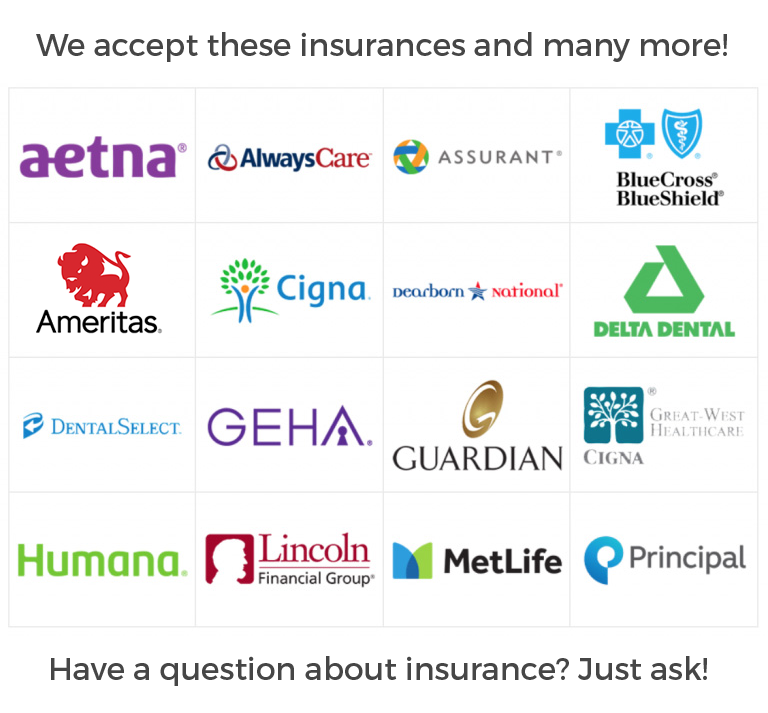 A full array of family, cosmetic, and restorative dentistry options.
Emergencies Seen Same Day
A State-of-the-Art Dental Facility to Best Serve Our Patients in Portage, MI.
OUR LOCATION Jason C. Dopp D.D.S.
| | |
| --- | --- |
| Monday | 8:00 AM – 5:00 PM |
| Tuesday | 8:00 AM – 5:00 PM |
| Wednesday | 8:00 AM – 5:00 PM |
| Thursday | 8:00 AM – 5:00 PM |
| Friday | CLOSED |
| Saturday | CLOSED |
| Sunday | CLOSED |