Oral Health is Key To A Healthy Mouth!
Oral Hygiene Foundations
Gum disease is currently the most common health condition in America with millions of Americans currently suffering from gum disease and related conditions. A high number of adult Americans also suffer from missing teeth, both of these conditions being avoidable with strong oral health . Our team at the office of Dr. Jason Dopp understands how crucial strong oral hygiene is to overall oral health, which is why we provide patients with thorough teeth cleanings as well as education regarding brushing technique, flossing technique, and why oral hygiene is so vital to overall health and health as a whole.
Brushing
Brushing is the cornerstone of a strong oral health regimen, and patients should always brush twice a day to remove plaque from the teeth to avoid tooth infections and decay. Patients should use a soft toothbrush and angle their brush at fourty-five degrees to best clean the tooth surface, and move the brush in circular motions. Brush both rows of teeth fully, both the front and back surfaces, as well as your tongue and the roof of your mouth to maintain fresh breath.
Flossing
Flossing helps patients cover the thirty percent of the tooth surface that brushing alone misses – flossing helps to remove stubborn food particles and bacteria that can lead to tooth decay and oral infections. Proper flossing technique involves using a foot-long piece of dental floss or longer, and wrapping the ends of the floss around your finger tips. Then, move the floss between the teeth and gently push the floss up against the sides of the teeth. This helps to remove food particles and bacteria.
After doing this, rinse your mouth out with water, and the flossing process is complete. Remember to floss every day, and don't be alarmed if your gums lightly bleed when first flossing for the first time or the first time in awhile – this is normal as the gums aren't used to having dental floss pass through them! This bleeding subsides as you floss more often.
Finding The Right Hygiene Products
With countless at-home oral hygiene products on the market today available to patients, how should you go about deciding which are best for you? Our team at the office of Dr. Jason Dopp takes the time to guide patients through the landscape of today's at-home oral hygiene products that best suite your own oral health needs as well as how to best use those products to achieve the healthiest possible smile.
Interdental brushes are small brushed with a soft bristled head that is capable of cleaning in between teeth to get a complete clean in the gumline and to best remove food. These can easily be purchased at most convenient stores as well as most supermarkets and grocery stores. When it comes to choosing a toothpaste, simply choose a toothpaste that contains flouride and is anti-cavity and tartar-controlling. You can also choose a whitening toothpaste to use less frequently in addition to your main toothpaste.
Electric toothbrushes and waterpiks are also great products that can further help you remove plaque and food particles to maintain the healthiest and cleanest smile possible. Electric toothbrushes have been shown to be more effective in plaque removal than traditional toothbrushes, and can also be safer on the gums.
See Our Team For Cleanings In Portage, MI
Dr. Jason Dopp is able to provide patients with routine exams and hygiene appointments to best protect the oral health of our patients and community. Schedule your next cleaning with our team or speak to us about oral hygiene and where to get further educational materials today.
Meet Your Local Portage/Kalamazoo Dentist
The Proof is in Our Patients

I agree with previous reviews. This dentist is THE BEST. I've never seen a professional so concerned about patient comfort and so good at everything he does. We haven't had a single bad experience in all the years he's treated us. We also appreciate his knowledge about every aspect of health and the way he's always learning the very latest dental practices. He's the city's foremost expert on TMJ while being great at everything.
The best dentist I have ever been to. He's such a nice guy and explains everything he has to do. His team is great too. They all make you feel comfortable and he's perfect for anyone that gets anxiety about going to the dentist. My kids even look forward to going to see him!
Can not say enough great things about Dr. Dopp and the staff. They made me feel very comfortable and did the work super fast.
MOST INSURANCES WELCOME AND MAXIMIZED!
Contact us and schedule your visit today. 
Most Insurances Welcomed and Maximized
We'll make the process of paying for your dental care as simple as possible! Our office accepts a wide variety of insurance plans, and we're always happy to file your claim for you so that you can be sure to receive the maximum benefits available to you. Jason C. Dopp D.D.S is in network with Aetna, Assurant, Blue Cross Blue Shield, Cigna, Dental Benefit Providers, Dental Network of America, DenteMax, GEHA Connection Dental, Guardian, Humana, MetLife, Principal, United Concordia, United Healthcare and more! Call us today to find out how we can maximize your insurance plan!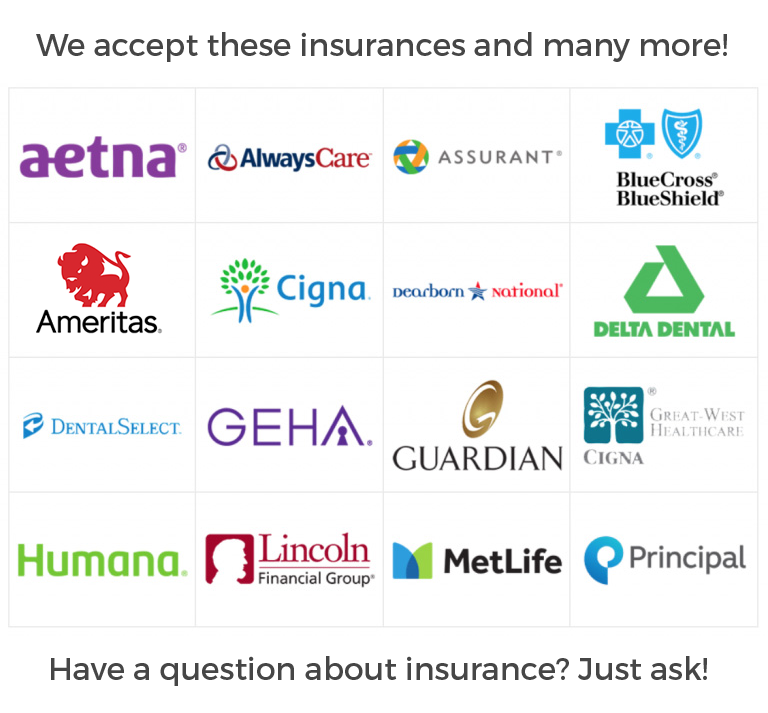 A full array of family, cosmetic, and restorative dentistry options.
Emergencies Seen Same Day
A State-of-the-Art Dental Facility to Best Serve Our Patients in Portage, MI.
OUR LOCATION Jason C. Dopp D.D.S.
| | |
| --- | --- |
| Monday | 8:00 AM – 5:00 PM |
| Tuesday | 8:00 AM – 5:00 PM |
| Wednesday | 8:00 AM – 5:00 PM |
| Thursday | 8:00 AM – 5:00 PM |
| Friday | CLOSED |
| Saturday | CLOSED |
| Sunday | CLOSED |